Dr. Sam Meyrowitz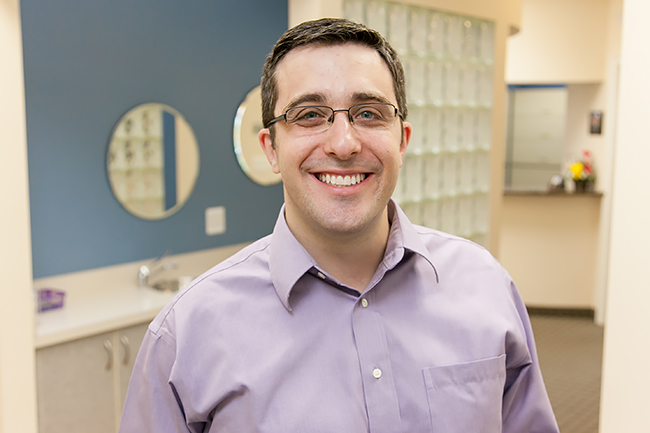 Dr. Meyrowitz grew up in Okemos, Michigan, a town neighboring Michigan State University. After graduating from high school, he attended Brandeis University in Waltham, Massachusetts, earning the Ralph Berenberg Memorial Prize for pre-dental studies. After completing his Bachelor of Arts in Biology, Dr. Meyrowitz returned to Michigan. Here he received his Doctor of Dental Surgery from the University of Michigan in Ann Arbor, where he graduated among the top of his class. During this time, he participated in research involving metastatic cancer of the jaws, which was published in 2006, in The Journal of the American Dental Association. Continuing his studies, Dr. Meyrowitz received both his certificate and Master of Science degree in Orthodontics from the Department of Orthodontics at the University of Michigan in Ann Arbor.
Soon after graduation, Dr. Meyrowitz left Michigan to begin practice in Pennsylvania. He is a member of numerous professional organizations, including the American Association of Orthodontists (AAO), American Dental Association (ADA), and Pennsylvania Dental Association (PDA).
Dr. Meyrowitz currently resides in Chalfont, PA where he lives happily with his wife Aviva and three children. He is an avid movie buff, and tries to get out to the theater as often as possible. Dr. Meyrowitz is also an accomplished singer, having competed in various competitions throughout high school, as well as participating in his college a cappella group, Brandeis VoiceMale. He also enjoys eating out, attempting to golf, spending time with his wife and two daughters, and watching and playing various sports. True to his alma mater, Dr. Meyrowitz is an avid Michigan Wolverines fan, as well as a die-hard Detroit Red Wings enthusiast.
Looking for orthodontists in
Glenside, Doylestown or Perkasie PA?
Our friendly staff is ready to answer your questions! Give us your name and number and we will contact you for a consultation.