Outstanding Orthodontics for Adults and Children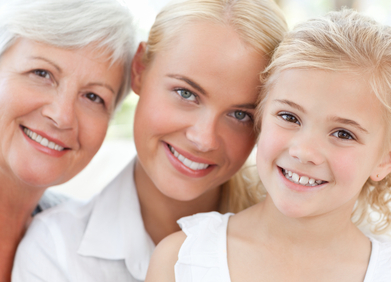 At L&M Orthodontics, we believe that a beautifully aligned smile and quality orthodontic care should be available to patients of all ages. We offer a full range of orthodontics for adults, teens, and children. Our Glenside and Doylestown locations provide traditional and clear braces as well as Invisalign®. Drs. Calvin Lee and Samuel Meyrowitz work closely with patients to understand their unique goals and determine which treatments will work best within their lifestyles. To schedule an appointment with L&M Orthodontics, contact us today.
Orthodontic Care for Youth
Drs. Lee and Meyrowitz recommend that children come in for an orthodontic evaluation early, usually at age 7 or 8. Around this age, children have begun to lose teeth and their permanent first molars have emerged. This is a great time for our team team to analyze your child's bite, diagnosing any misalignment issues so they can be addressed before they cause problems. Though we can diagnose malocclusion and misalignment early, treatment often begins at a later age, when the smile has developed further. By timing orthodontic care properly, we can help our patients avoid repeated and costly treatments in the future.
Orthodontic Care for Teens and Adults
Orthodontic treatment can improve the health of our adult patients' smiles in many ways. When your teeth and bite are properly aligned, you can clean your teeth more easily, preventing gum disease and other issues. When your bite is properly aligned, you may find relief from other conditions such as teeth grinding, tooth and gum soreness, and symptoms of temporomandibular joint (TMJ) disorder. You can also feel more confident with your new smile, experiencing a tremendous boost in self-esteem.
Our Treatment Options
Dr. Lee and Dr. Meyrowitz will conduct an in-depth analysis to determine which treatment is right for you:
Traditional metal braces are the most common orthodontic treatment, especially among younger patients. For this treatment, one of our orthodontists will apply metal brackets to your teeth and connect them with an arch wire. Small elastic bands fit over the bracket and wire, and this system applies pressure to gradually move your teeth into their proper positions. Metal braces can effectively treat crooked, widely spaced, and crowded teeth as well as malocclusion.
Clear braces work exactly like traditional metal braces. However, their ceramic brackets and tooth-colored wires help these braces blend in with the teeth more easily. This is a great option for patients who want straighter teeth with a more discreet treatment.
Invisalign® is a very effective alternative to traditional braces. Invisalign® uses clear plastic aligners that fit snugly upon your natural teeth. You will wear these aligners for about 22 hours a day, removing them to eat or to clean your teeth. About every two weeks, you will change from one set of aligners to the next in the series, with each mouthpiece bringing your teeth closer to proper alignment.
Choosing the Best Treatment for You
Several factors will likely affect which orthodontic treatment you choose, including treatment cost, your aesthetic preferences, and more. Contact L&M Orthodontics to schedule an appointment today and learn more about how we can help you and your loved ones achieve straighter smiles.
Looking for orthodontists in
Glenside, Doylestown or Perkasie PA?
Our friendly staff is ready to answer your questions! Give us your name and number and we will contact you for a consultation.