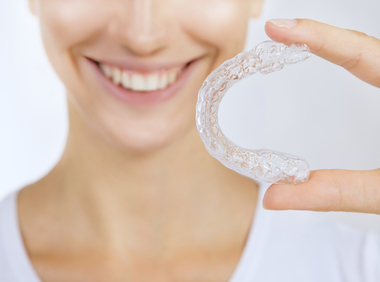 Invisalign® is a Comfortable, Clear Orthodontic Option
When it comes to orthodontic treatment, today's dental patients have more options than ever before. Dr. Calvin Lee and Dr. Samuel Meyrowitz of L&M Orthodontics proudly offer Invisalign® at their Doylestown, Glenside and Perkasie offices. This innovative orthodontic treatment gently aligns teeth using a series of clear removable mouthpieces. Invisalign® is exceptionally discreet, so you can feel confident in your smile even while your treatment is under way. To learn more about this and other orthodontic treatment options, contact us today.
How Invisalign® Works
Before you undergo Invisalign® treatment, Dr. Lee or Dr. Meyrowitz will take impressions of your teeth and create a digital image of your smile. These impressions, along with photographs of your teeth, will be used to design a treatment plan. Before you begin treatment, you will be able to see a digital mockup of what your final results will look like.
During your Invisalign® treatment, you will change from one set of plastic aligners to the next about every two weeks. Aligners are custom-crafted for your smile, with each set in the series moving your teeth closer to their proper alignment. Treatment time is often comparable to traditional orthodontics. Once your treatment is complete, you will be given a retainer to keep your teeth from shifting.
Invisalign® Candidates
Invisalign® can correct a wide range of conditions, including:
Overly spaced or gapped teeth
Crowded teeth
Crooked teeth
Underbite
Overbite
Crossbite
For some very severe malocclusion or bite misalignment cases, Invisalign® may not be the best option. Our orthodontists can help you ultimately determine whether you are a candidate. Treatment time varies depending on the degree of correction required.
Advantages of Invisalign®
Invisalign® is a unique treatment option offering a wealth of benefits, including:
Removable Aligners: Although you should wear your aligners for about 22 hours a day, you can remove them to eat and brush your teeth. This means that there are no food restrictions during treatment. You can continue to enjoy your favorite sticky or tough foods, and cleaning your teeth is as easy as ever.
Efficient Treatment: Invisalign® can align some patients teeth in less than a year. Because you do not need to have your hardware adjusted by your doctor, you will require fewer visits to our office than you would with braces.
Comfortable Aligners: Your aligners are custom-crafted to fit snugly over your teeth. They are made of smooth plastic, and will feel comfortable against the soft tissues of the mouth.
Invisalign® Options
At L&M Orthodontics, we offer traditional Invisalign® as well as Invisalign® Teen, which is designed specifically for high school-aged patients. The treatment comes with two extra aligners in case one gets broken or misplaced. The aligners are also equipped with a wear indicator that slowly disappears when it is time to change aligners.
We also provide Invisalign Express®, an expedited treatment option for patients seeking minor orthodontic adjustments to achieve improved aesthetics. The cost of invisalign vs braces is comparable and is covered by many insurance providers.
Schedule Your Appointment Today
To learn more about Invisalign® and other orthodontic treatment options, contact L&M Orthodontics today.
Looking for orthodontists in
Glenside, Doylestown or Perkasie PA?
Our friendly staff is ready to answer your questions! Give us your name and number and we will contact you for a consultation.