The Best Orthodontic-Friendly Recipe for National Orthodontic Health Month!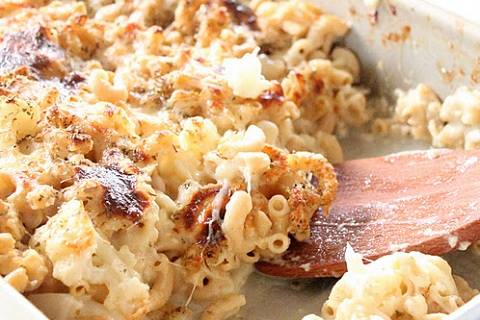 Cauliflower Mac and Cheese 
AAO (American Association of Orthodontics) Partners with Renowned Chef John Besh!
• 1 pound penne pasta
• 4 tablespoons butter
• 1/4 cup flour
• 1 quart milk
• 1 pinch nutmeg
• Salt
• Freshly ground black pepper
• 1 cup fresh ricotta cheese
• 1⁄3 cup shredded Swiss cheese
• 3/4 cup shredded white Cheddar cheese
• 1 cup or so cooked cauliflower
Directions
1. Preheat the oven to 375˚. In a large pot of boiling, salted water, cook the pasta for 12 minutes,
uncovered, then drain in a colander.
2. Melt the butter in a large saucepan over medium heat. Add the flour and cook, stirring constantly, for
about a minute, then stir in the milk and bring to a boil. Keep stirring and when the white sauce is well
mixed, reduce the heat to simmer. Add the nutmeg and season with salt and pepper.
3. Remove the pan from the heat and stir in the ricotta cheese. Add the pasta and toss well, then stir in
the Swiss cheese and half of the Cheddar.
4. Scatter the cauliflower in an ovenproof 9 x 12 dish and spoon the pasta and cheesy sauce on top. Smooth
the top with a spatula and sprinkle on the remaining Cheddar. Bake for 20-30 minutes, until the cheese is nicely
browned.
8 servings.