Which Candy Should You Avoid?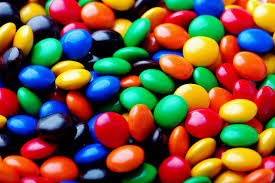 Halloween is just a couple days away! L&M Orthodontics wishes everyone happy and safe Halloween.  It's been fun seeing so many of our patients excited  to go trick or treating in their costumes and collect Halloween candy.  But all the sugar can potentially damage your health! If you are currently in orthodontic treatment, it is especially important to be watchful of what you consume.  We are sharing some Halloween Dental Safety Guidelines today to help you protect your dental health and orthodontic care.
Orthodontic Friendly Candy:
Plain M&M
Hershey Bars
Candy Corn
Kit Kat Bars
Hershey Kisses
Three Musketeers
Malt Balls
Sweet Tarts
Peppermint Patties
Cookies and Cream
Snow Caps
Cup Cakes
Soft Cookies
Avoid:
Caramel
Bubblegum
All hard candy
Taffy
Licorice
Nuts
Jelly beans
Candy corns
Popcorn
Caramel and candy apples
Help your children celebrate Halloween responsibly:
After your children get back from trick-or-treating or a party, go through their bags of Halloween candy together. Tell them to each pick the 10 or so (whatever number you decide, based on factors such as age) treats they want the most.
Get the unpicked treats out of sight. You can donate them to a food bank or freeze them if you can't bear to throw them out.
Set a certain time of the day when it's 'Treat Time'.  They can choose a piece of candy at that time only, and this will keep them from asking about it all day long.  Perhaps it's after dinner each day that they enjoy a piece of their cherished candy.  It's something to look forward to!
'Treat Time' should always be followed by 'Brush Time' because we don't want those sticky, sweet treats staying on our pearly whites!  Until a child is 7 or 8 years old, a parent should help with teeth brushing, not simply supervise. Even after age 8, parents should supervise brushing. That includes friendly reminders to older children to brush and floss until they get to high school, when it should be a habit.
You should replace toothbrushes every three or four months anyway, so make Halloween an occasion for getting your child a new brush! When children like the toothbrushes, they are more likely to enjoy brushing.