An Alternative to Metal Braces: Clear Brackets!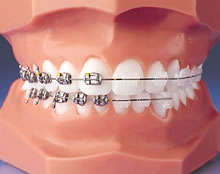 In orthodontics today, more and more adults are opting to undergo treatment to achieve a more esthetic smile they can be proud of.  However, one of the main concerns adult patients have when considering the 1-2 year commitment for orthodontic treatment is having noticeable metal brackets on their teeth.  Now in all fairness, many improvements have been made to metal brackets, and they are now smaller and lower profile than ever. That being said, metal braces are obviously still noticeable on the white background of your teeth; this may be a deal breaker for some of our adult patients.
Fortunately for those of you uninterested in metal braces, undergoing orthodontic treatment doesn't mean that you are doomed to a life of highly visible metal brackets and wires. I am sure you've all heard of Invisalign and clear aligners as an alternative to braces. With the improvements made in the Invisalign technology, we are able to achieve a beautiful new smile in just about any case we start. However, success with aligners is very dependent on the compliance of the patient. They have to be worn 22 hours a day, and removed and cleaned at every meal. For many patients, keeping track of the aligners and having to take them out multiple times a day can be a hassle. For these patients, a viable alternative is clear brackets, which are braces made from either clear or tooth colored material. These clear braces provide an attractive and less noticeable alternative to traditional metal braces, which don't come in and out of the mouth during treatment.
The beauty of clear brackets is that they are virtually the same as traditional metal braces except in their appearance. Usually made of a porcelain or plastic, these clear braces tend to blend into the natural tooth structure, rendering them virtually unnoticeable when in the mouth. Additionally, current clear bracket technology has allowed for much smaller bracket size than their predecessors, as well as treatment times comparable to those achieved using traditional metal brackets. Having these less obvious braces allow a patient to feel more confident during orthodontic treatment, especially knowing that people are not focusing on the fact that they have brackets on their teeth.
If you are considering orthodontic treatment, and are interested in a more esthetic option for your treatment, feel free to inquire about clear braces and Invisalign at one of our locations here at L&M Orthodontics. Dr. Lee and I would be more than happy to discuss your options and to help you start on your transition to the beautiful Star Smile you have always wanted.