The Best Braces Friendly Smoothie Recipes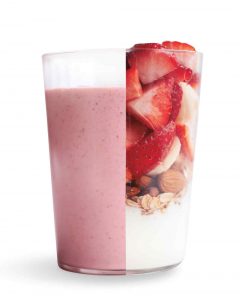 The Best Braces Friendly Smoothie Recipes
Smoothies are a great snack or a meal replacement option after a starting orthodontic treatment or for after a routine orthodontic visit.  For a few days after an adjustment, one may experience minor to moderate discomfort/soreness due to  the shifting of teeth from the tightening of the wires.  This discomfort usually subsides after 2-3 days after the visit.  While a patient is experiencing such discomfort, it maybe a little difficult for one to enjoy his/her normal diet especially because chewing on hard foods can be a challenge.  This is where a glass full of less sugary and nutritious smoothie can be helpful.  Today, we are sharing some tried and true, BEST BRACES FRIENDLY SMOOTHIE RECIPES.  (We listed them in random order and for your reference, they indicate the number of shares on-line as shown on their respective website.)
1. Hearty Fruit and Oat Smoothie by Martha Stewart
(79,1k Shares as of July 2017)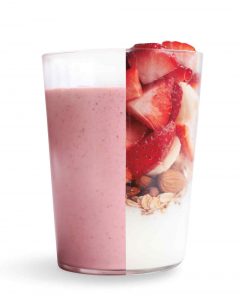 Ingredients:
1 cup sliced strawberries
1 sliced banana

1/4 cup raw almonds

1/2 cup old-fashioned oats

1 cup low-fat vanilla yogurt

1 teaspoon maple syrup
Directions:
Toss into blender
2. Pina-Colada Green Smoothie  by Cleanfoodcrush.com   (1.3k Shares)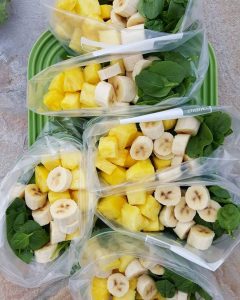 Ingredients:
1 cup fresh pineapple chunks
1 banana
1 cup (or more) fresh baby spinach .
1 cup unsweetened coconut milk
1/4 cup ice cubes, optional
2 tsps raw honey, optional
Directions:
Blend!
3. Peanut Butter, Banana, and Flax Smoothie by Cooking Light
(2.9k Shares)
Ingredients:
1/2 cup 1% low-fat milk
1/2 cup vanilla fat-free yogurt
2 tablespoons ground golden flaxseed
1 tablespoon creamy peanut butter
1 teaspoon honey
1/4 teaspoon vanilla extract
1 ripe banana, sliced
Directions:
Place all ingredients in a blender; process until smooth.
4. Mixed Berry Green Smoothie by Cleanfoodcrush.com (4k Shares)

Ingredients:
1 cup fresh baby spinach (freezes very well)
 1/2 cup organic chopped kale
1 cup organic berries of choice
1 sliced banana
optional: a handful of organic green grapes
Directions:
Blend!
5. Lee Family's Favorite Smoothie – Vanilla Berry Green Smoothie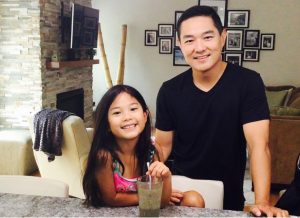 Ingredients:
1 or 2 scoops of your favorite vanilla plant based protein powder
1 sliced banana
1/2 cup berries of choice
1 cup milk
1 tbs coconut oil
1 tbs chia seed
handful spinach
Directions:  
Blend!
If you have any questions regarding this blog or orthodontics and would like to meet with our doctors, please call us today for a complimentary consultation appointment.
Meet Dr. Lee on our Youtube channel!  Please click the above video to watch Dr. Lee demonstrate how to make one of his family's favorite smoothies.
 SCHEDULE AN APPOINTMENT WITH AN ORTHODONTIST AT L&M ORTHODONTICS TODAY!
IF YOU HAVE ANY ORTHODONTIC NEEDS AND WOULD LIKE TO SCHEDULE A COMPLEMENTARY CONSULTATION, PLEASE CONTACT OUR OFFICES, OUR FRIENDLY TEAM WOULD BE HAPPY TO ASSIST YOU!
The post The Best Braces Friendly Smoothie Recipes appeared first on L&M Orthodontics – Orthodontists in Doylestown, Glenside, Perkasie, PA – Warrington, Bucks County, Montgomery County.
Source: L&M