Proper Brushing With Braces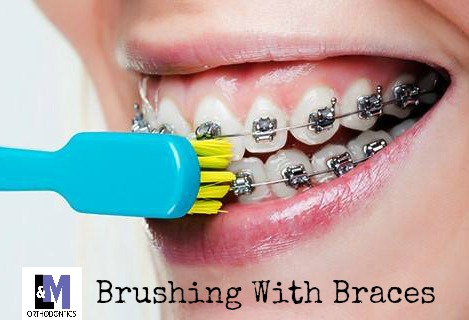 Proper Brushing With Braces
Dr. Arnold Malerman
L&M Orthodontics
 Soft bristled toothbrushes are for everyone, no matter their age. 

Bacterial plaque is sticky and soft like pancake syrup.  If you spilled pancake syrup onto the kitchen table, you wouldn't try to clean it off with a wire brush.
A soft rag would do a much better job.  Soft bristled toothbrushes do a much better job of flexing into tiny hard to reach spaces to then wipe the plaque off your teeth as well as not wearing away tooth structure.
Discard brush after sickness. Toothbrushes can have microbial build up.
It's important to brush everywhere, but do it gently.  Brushing harder does not clean better.  Brush 2 full minutes by the clock (play a song on your smartphone and brush for the entire length of the song) at least twice a day, before breakfast and before bed.  And don't forget to floss 1x/day, every day
Handle shapes don't matter. The neck of the brush has little effect on the overall results.
When you are wearing braces, brush 45º down from the top, 45º up from the bottom, to get the bristles behind the wires.
In actuality the act of chewing increases salivary flow, which can help wash away plaque.  But when you're in braces, avoid gum because it can bend wires and detach the braces.
Store your toothbrush at least 6' away from the toilet bowl to prevent yucky aerosol contamination.
Animal hair was stiff, unyielding, scratchy.  Today's toothbrushes
have soft nylon or rubber bristles that are designed to gently
flex into all those hard to reach spaces, easily pushing the bacteria
that cause tooth decay and gum disease off of your teeth.
This is especially important when you are wearing braces which create
places where bacteria can hide.  Then the bacteria eat all those
sugars/starches that you snack on and convert them into acids that
they poop out all over your teeth all day long.
Remember, clean teeth not only look good but they taste good, too.
If you have any questions regarding this blog, please
contact
our office. We will be happy to answer any of your questions.
SCHEDULE AN APPOINTMENT WITH AN ORTHODONTIST AT L&M ORTHODONTICS TODAY!
IF YOU HAVE ANY ORTHODONTIC NEEDS AND WOULD LIKE TO SCHEDULE A COMPLEMENTARY CONSULTATION, PLEASE CONTACT OUR OFFICES, OUR FRIENDLY TEAM WOULD BE HAPPY TO ASSIST YOU!