Orthodontic History (Part 3)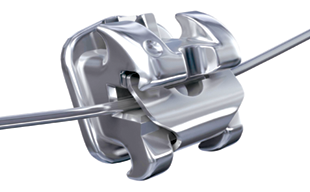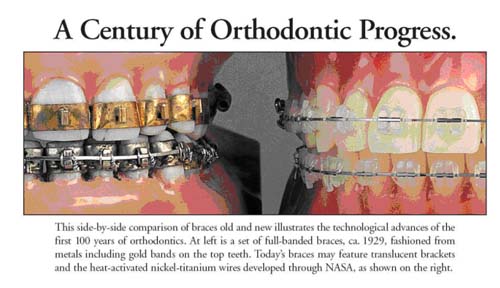 For those who are following, I finished the last installment of the L&M blog regarding the history of orthodontics discussing Edward Angle, the proclaimed "Father of Modern Orthodontics." Just to review, Angle and his disciples established orthodontics as a true dental specialty, establishing the first school of orthodontics and developing many of the orthodontic appliances and techniques still used by most orthodontists today.
So what, you may ask, has changed since Angle was practicing way back in the early 1900s? Although you can see the beginnings of our modern techniques in Angle's work, technology has greatly improved since then, allowing for a more streamlined and productive armamentarium for orthodontists to use when straightening your teeth. For Angle and his contemporaries, "braces" consisted of full bands, or rings, that went around every tooth in movement. Gold and silver were the metals most commonly used to make these bands, in addition to platinum, steel, wood, ivory, zinc and copper to form hooks and other auxiliaries. However these materials were not ideal.  Although easy to mold and shape into bands, gold and silver were incredibly expensive (much like today). Additionally these metals are soft, and therefore distorted easily, requiring frequent appointments and refitting. And, as far as esthetics, you can probably imagine the amount of metal that was visible when a patient smiled!
Many of the shortcomings of these early braces were addressed in the late 1950s when stainless steel became the material of choice for orthodontic appliances. Stainless steel was still easily formed into the shapes necessary for orthodontic appliances and wires, but, unlike its gold and silver predecessors, predictably held its shape and could be regularly bent to facilitate orthodontic movement at a fraction of the cost. Another major change came along in the mid-1970s when dental adhesives improved to the point that a bonded bracket was achievable. This allowed a small bracket to be bonded on the surface of the tooth, eliminating the need for full metal bands on every tooth.  These bonded brackets not only greatly improved esthetics, but also cut down on the time needed to place braces and gave the orthodontist greater freedom to place the braces where they needed to go, shortening treatment time.
In addition to the brackets, orthodontic wires also improved. The big breakthrough came with the incorporation of nickel-titanium. Nitinol, or Niti wires exhibit two very useful properties in orthodontics, shape memory and superelasticity.  Without going into too much detail, this basically means that when distorted, these wires return to their initial shape and provide a force optimal for tooth movement. These wires allow for use to engage severely misaligned teeth early on in treatment, and have greatly reduced the time needed for an orthodontic case.
Stainless steel, bondable brackets and Niti have been real game changers as far as modern orthodontics is concerned.  And technology continues to change even now. Brackets come in many variations, such as clear (porcelain or plastic) brackets for esthetics, braces that go on the lingual surfaces instead of the fronts of your teeth, and self-ligating brackets just to name a few. Clear plastic aligners, such as those used in Invisalign treatment can remove the need for brackets altogether. Temporary anchorage, or TADs allow us to provide orthodontic movements that were impossible in the past.  It is truly remarkable how far the field of orthodontics has come since its ancient beginnings, and equally as exciting to imagine how it can be improved upon as we move into the future.