Should I See My Dentist or My Orthodontist?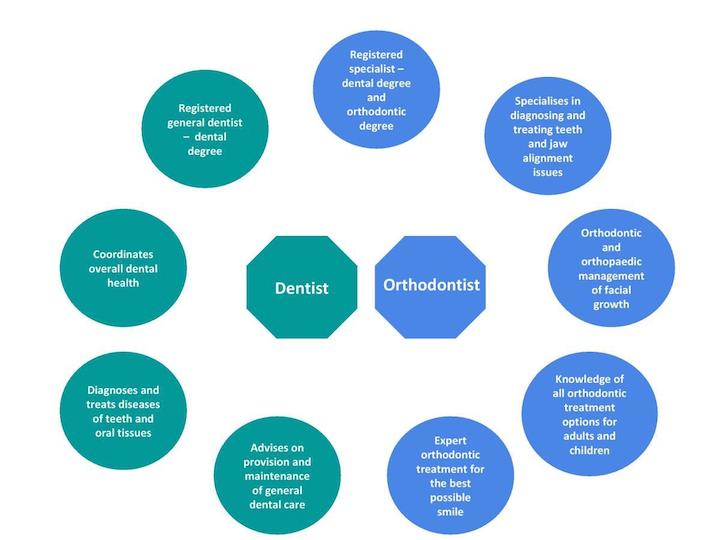 For many people undergoing orthodontics, it is often confusing when to see your dentist versus your orthodontist. Most of the time, a general dentist is whom you should call to take care of the majority of your everyday dental needs. For all patients, especially those undergoing orthodontics, the general dentist should be seen every 6 months (or at an alternative interval if specified by your dentist) for a cleaning and general check-up to ensure proper dental health. It is during these check-ups that the general dentist will determine if you need any fillings, extractions, treatment for your gums and oral tissues, replacement of lost teeth, etc., using the latest technology. Other reasons to call your dentist before the orthodontist include times of tooth or oral tissue pain, swelling, failed dental work, and fractures of the teeth and jaws. Although the orthodontist has had training to diagnose these issues, an orthodontic office usually does not treat them, and most likely does not have the proper equipment to resolve your discomfort. In all likelihood, these situations would end up referred back to the general dentist, who will either treat the problem or refer to the dental professional that can.
Although most dental professionals get cursory training in all facets of dentistry, some of your dental needs are better taken care of by a specialist, such as your orthodontist. Although some dentists do attempt orthodontic treatment, the orthodontist is the dental specialist most qualified for attaining the best functional occlusion and smile. Remember, an orthodontist completed the same training as a dentist, but then chose to undergo 2-3 years of additional education to become an expert in straightening teeth and developing a proper occlusion. It is therefore best to call the orthodontist when your interest is in straightening your teeth and achieving the most esthetic smile possible for your mouth. If you are already in treatment, the orthodontist is the one to turn to if you have any issues with your braces or Invisalign aligners, such as broken brackets, lost aligners, a poking wire, lost retainers, etc. Additionally, the orthodontist can be an additional resource in the treatment of TMJ discomfort, wisdom tooth evaluation, and multi-disciplinary treatment.
In truth, it is most important to have a dentist and an orthodontist that you can trust.  Each member of the team responsible for your oral health should not only be good at what they do, but also in communicating with the other members involved in achieving your own ideal smile.