Why Wear L&M Orthodontics Wristband?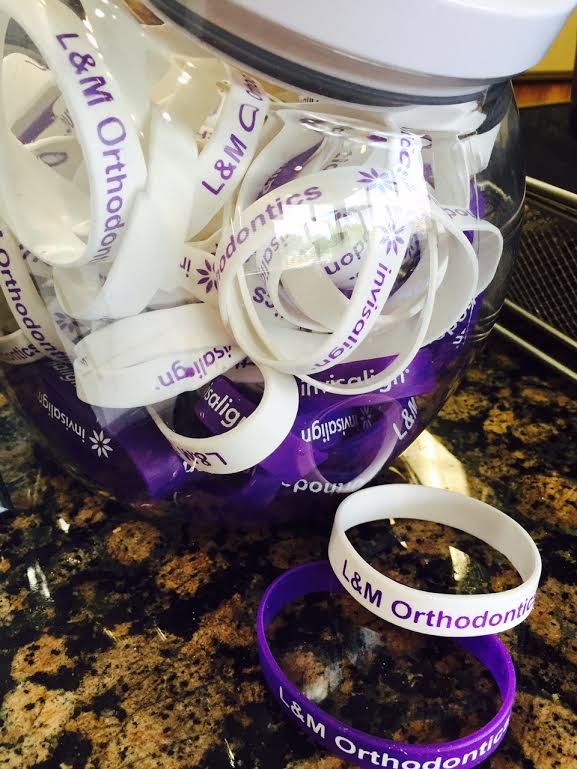 Do you have a L&M Orthodontics wristband?  If not, make sure you ask for one next time you come visit our office!
We have one in two colors – purple and white.  Pick your color and wear the wristband every time you come in for your orthodontic visit to show off our practice.  We will write you name on a piece of paper, and you will automatically be entered into our semi-annual Wristband Contest  for an awesome prize.  The more you wear your wristband at every visit, the better chance of winning!  We draw every 6 months and the winner will receive either 4 free movie tickets or a visa card. Just recently, we had our  drawing and one winner from each office received 4 free movie tickets.  Our Glenside winner Mia is smiling with her dad in the photo!  Congratulations Mia!!!
This is just a fun way for us to reward those who think of us!  Your friends and neighbors may see your wristband and ask,
"What is that?"
You can tell him/her about L&M Orthodontics and all of the fun things that we do!  Please share your positive experience with your friends and family.  We also have a Referral Rewards Program, where we give out amazing prizes for your referrals who start treatment with us.  It is absolutely our greatest pleasure  when you refer your friends, family members and neighbors to us!  There couldn't be a better compliment for our entire L&M team. When someone is referred to us by our current and past patient, our doctors and our team members will make sure to pay extra special attention and provide them with excellent personal care.  We want you to have full confidence about entrusting to us those you care about the most.  It is our goal to continually and consistantly demonstrate top quality care for all of our patients, BECAUSE WE CARE!