A Keurig From an Orthodontist?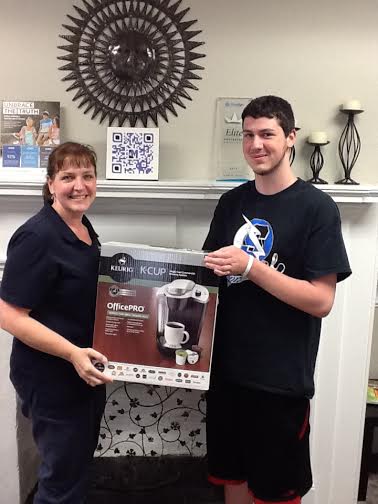 We are so grateful and happy for the Hess family as they claim their prize for referring 2 patients to L&M Orthodontics.  J. Hess will be able to take the Kuerig coffee maker to college as she embarks on a brand new journey as a freshman in college.  How exciting!  We wish her only the very best. Enjoy your Keurig, and have a great first year!
How DO you win a Kuerig?  Or an Ipad mini or even a $1000.00 gift card from L&M Orthodontics, you might wonder?  It's easy!  We have established a Referral Rewards Program to thank and reward those who think of us. Please click the link and take a look at our program! The greatest compliment for our team is when our patients refer their friends and family to L&M Orthodontics. We are deeply appreciative for all those who share with others their positive experience at L&M! We have recently also created a Referral Rewards Card to help you keep track of your referrals and to claim your prize.  Each time a referred patient starts treatment with us, you will get a LM stamp on the card to document your referral to be used in our rewards program.  If you have referred a patient to us but have not yet received a Referral Rewards Card, please let our team members know the next time you visit our office!  We would be happy to provide you with a card.
You can rest assured that we will do everything possible to provide your referrals the excellent personal care you have come to expect from L&M. We want you to have full confidence about entrusting to us those you care about the most.  Each team member – the doctors, assistants and customer representatives at L&M Orthodontics strive to live up to our motto: BECAUSE WE CARE!!!!!