April is National Facial Protection Month!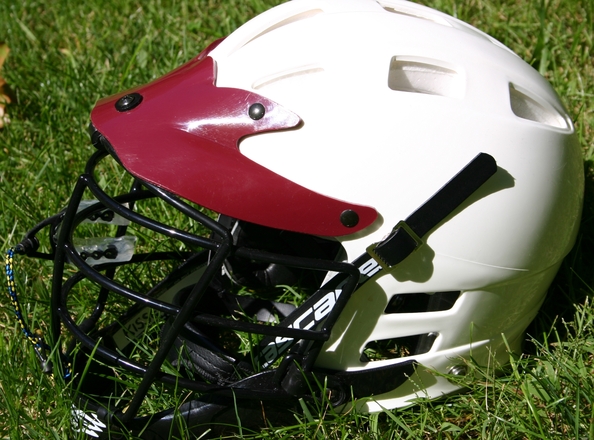 Any Dentist can tell you about patients who present with a "Sportsmen's Fracture," a diagonal fracture across the face of an upper front tooth.  Sportsmen's Fractures are caused by impact with a hard object such as a baseball, the top of another player's head, the side of a pool, a bat or racquet, an outfield fence, an opponent's elbow, a sidewalk or street surface, the rim of a trampoline, etc.  Sportsmen's Fractures don't just occur during organized sports activities.  They also occur during practice, when engaged in a pick-up game, and very often when just messing around.  It's amazing the risk kids will endure because they think they are indestructible.
Traumatic injury can, in addition to causing tooth fracture, cause tooth avulsion (tooth knocked out completely), tooth displacement (tooth knocked out of line), jaw fracture, jaw joint displacement, soft-tissue lacerations and bruising, muscle tear, muscle strain, or revitalization of the nerves of teeth.  It's interesting to note that braces help hold teeth in place when the oral cavity is subjected to trauma, reducing tooth damage.  The braces can, however, cause damage to the soft tissues inside the mouth.  Much of the damage just described can be reduced or eliminated by the simple expedient of wearing a mouth guard.  It's simple, if you or your child participate in a contact sport, the rule is, NO MOUTHGUARD—NO CONTACT SPORT!
The American Dental Association has defined a "contact sport" as any sport in which a participant comes in contact with another player or with an unyielding surface.  Contact sports include, but are not limited to, basketball, volleyball, soccer, football, ice hockey, field hockey, rugby, baseball, full contact frisbee, boxing, wrestling, and so many more.
At L&M Orthodontics we are pleased to provide each of our patients with an Orthodontic Mouth Guard.  A regular sorts mouth guard interferes with tooth movement (straightening).  Contact us for a specially designed Orthodontic Mouth Guard that fits around braces without interfering with tooth movement.  After your braces or Invisalign treatment is completed we would be happy to fabricate for you for a custom made Athletic Mouth Guard, which not only protects the teeth and surrounding tissues, but also helps retain teeth in their beautiful post-Orthodontic relationships.
Remember, a mouth guard only works if you wear it.  Whether it's an organized in-school (Gym) or after school sports activity, a game or a practice, a non-school organized team, a group-pick-up game, a 1-on-1 competition, or just messing around, WEAR YOUR MOUTH GUARD.  Better a live chicken than a dead duck.
Schedule an Appointment with an Abington Orthodontist Today
If you have any orthodontic needs and would like to schedule a complementary consultation with any of our doctors, please contact our offices, our friendly team would be happy to assist you!