L&M Orthodontics Flat Stanley/Stacey Contest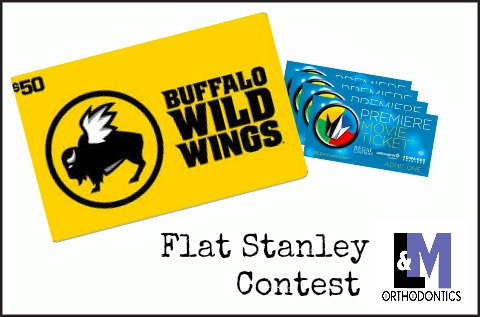 2018 FLAT STANLEY/STACEY CONTEST IS ON AT L&M ORTHODONTICS!
This year, we are giving away a $50 gift certificate to Buffalo Wild Wings and 4 movie tickets to the winner of this fun and fantastic contest!
The contest runs from 6/25/18  to 9/4/18 and it's extremely simple. You do not have to a patient at L&M Orthodontics to enter this contest.  Anyone can enter!
1.Pick up your Flat Stanley Doll at our office, or you can create your own Flat Doll.
2.Take a picture WITH your Flat Stanley/Stacey (you AND the doll) on the beach, at the amusement park, mountains, wherever you are this summer.
3.Submit your photo to Orthodontist4u@gmail.com with your full name and a brief description of the photo by  9/4/2018.
The winner will be selected by a  random drawing and will be announced on L&M Orthodontics Facebook  on Monday 9/10/2018.
* One entry per person please.
* Remember, the photo must be you AND the doll.
* Must be a local resident (Montgomery/Bucks County) to enter the contest.
Have fun and good luck everyone!
If you have any questions regarding this contest,  please give contact our office!
SCHEDULE AN APPOINTMENT WITH AN ORTHODONTIST AT L&M ORTHODONTICS TODAY!
IF YOU HAVE ANY ORTHODONTIC NEEDS AND WOULD LIKE TO SCHEDULE A COMPLEMENTARY CONSULTATION, PLEASE CONTACT OUR OFFICES, OUR FRIENDLY TEAM WOULD BE HAPPY TO ASSIST YOU!